Accelerating the Future of Cloud Infrastructure
A bare-metal cloud built specifically for high performance dApps, indexers and protocols.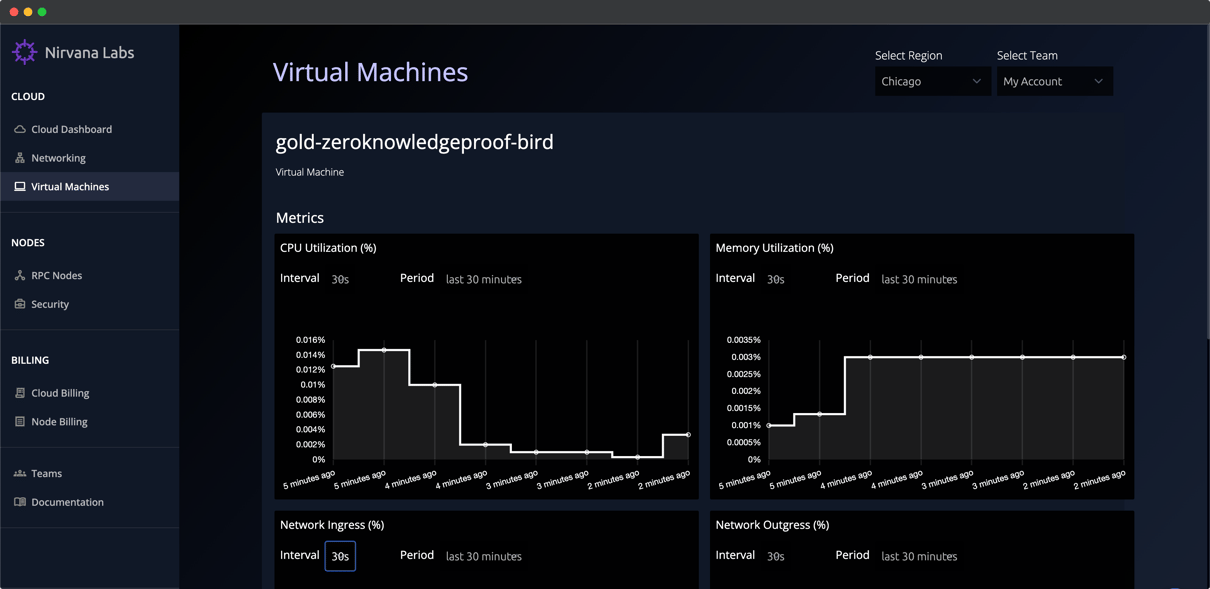 Deploy faster
Meet the Cloud that Scales with You
Our cloud seamlessly powers blockchain nodes, big data analytics, gaming platforms, decentralized applications, and many more with our streamlined virtualization technology.
Cloud Pricing Calculator
Compute

High performance compute options that feature higher clock speeds and significantly lower RAM latency.

Storage

State of the art NVMe disks directly attached to your virtual machine that reach a speed of 1,000,000 I/O operations per second.

Networking

Take control of cloud workloads by easily organizing virtual private clouds and managing security lists
How does Nirvana Cloud stack up?
We've leveraged years of research and development to deliver a cloud built with proprietary software and top-of-the-line hardware, giving you the highest performance at a fraction of the cost compared to industry standards.
3x
Faster storage disk speeds
Nirvana storage volumes run at up to 1 million IOPS while other cloud providers max out at 256k IOPS.
30%
Lower Compute Costs
Save between 30-50% utilizing our high performance compute shapes when compared to other cloud providers.
81%
Lower Bandwidth Costs
Our global egress bandwidth costs are between 1.5-3 cents per gigabyte compared to the 8-15 cents other cloud providers charge.
Build with Confidence
The Web3 Native Cloud Platform
The performance of bare-metal with the scalability of a cloud.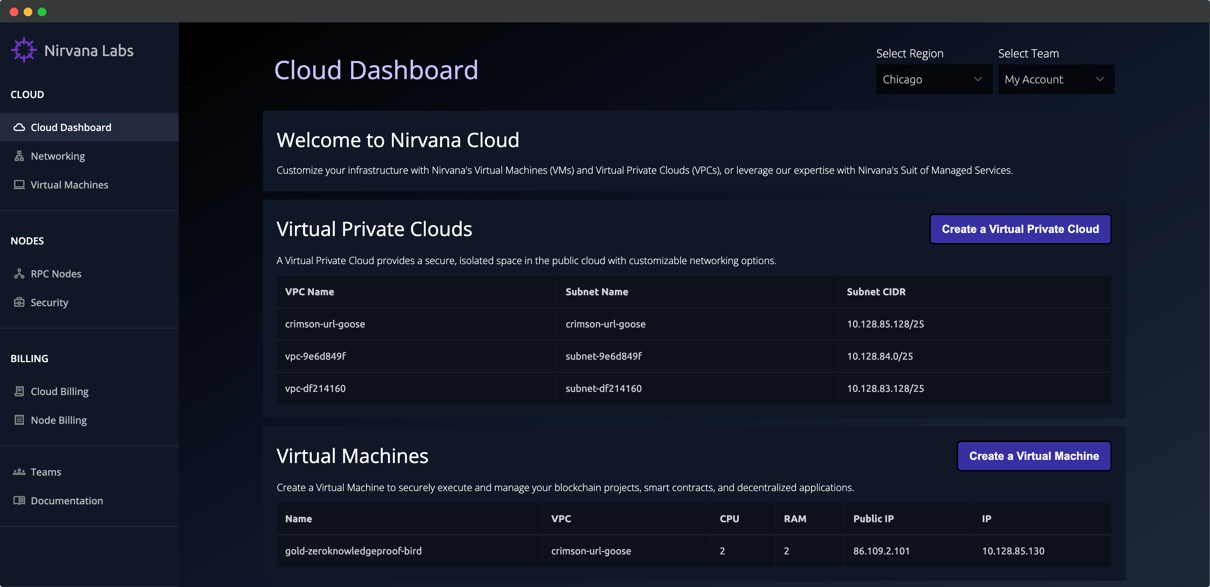 Simplified Networking

Create virtual private clouds to segregate virtual machines and create cross-regional connections.

Lower Latency

The Nirvana bare-metal cloud utilizes minimal virtualization and hardware compartmentalization, resulting in lower latency between the CPU, RAM, and storage components.

Transparent Pricing

Always know your costs before creating resources and easily forecast future costs with transparent and linear unit pricing in each zone.

Affordable Bandwidth

Only pay 1-3 cents per gb for egress bandwidth globally. Compared to 8-15 cents on other cloud providers.

Powerful Storage

Experience storage that is 3x faster and costs 100x less than traditional cloud VM storage volumes. Choose between performance-optimized NVMe and cost-optimized SSD volumes.

Simple Scaling

Easily adjust the amount of CPU, RAM, and storage in any cloud VM to fit your workloads, eliminating the limitations of pre-sized machines.