Announcing Nirvana Cloud - The Future of Blockchain Cloud Infrastructure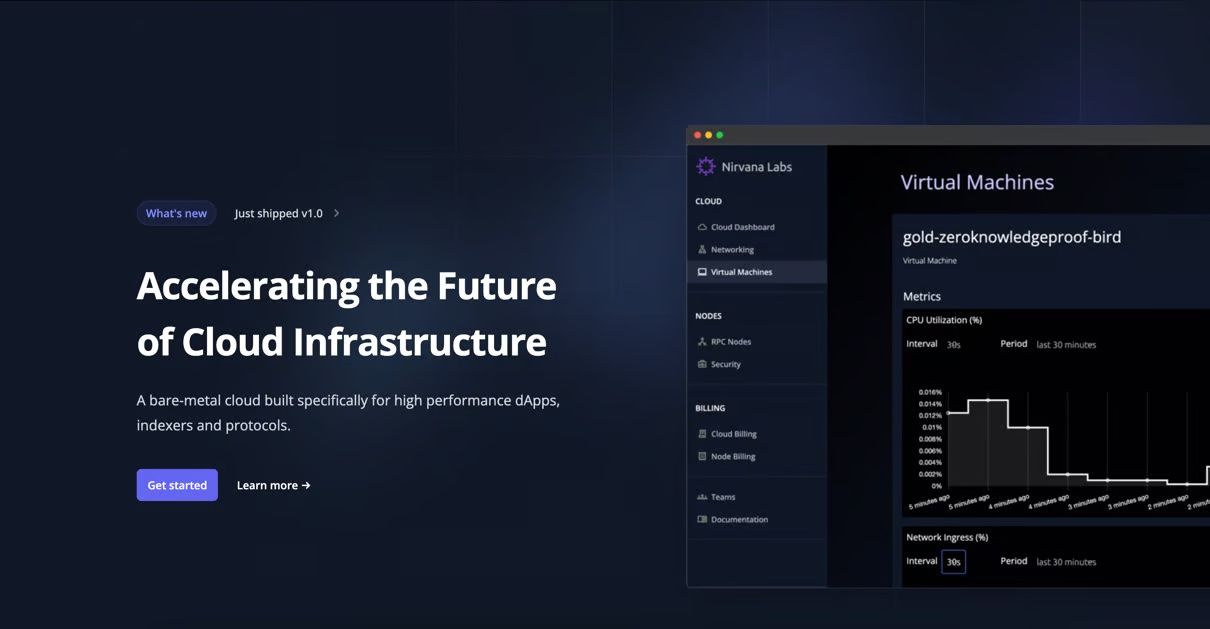 Introduction
Today marks a significant milestone in the web3 space as Nirvana Labs officially unveils Nirvana Cloud, a trailblazing cloud service platform designed for the web3 ecosystem and anyone looking for high performance cloud services. 
In the blockchain ecosystem, there is over-reliance on traditional web2 cloud providers, Nirvana Cloud promises to revolutionize the way decentralized applications operate, offering a truly web3 optimized environment by using hardware and software that is highly tailored very demanding, bandwidth heavy, computing workloads that are very common with blockchain like transactions.
"The genesis of Nirvana Cloud was sparked by a critical need in the market for a high-performance, cost-effective, and reliable blockchain infrastructure," said Devin Bandara, CEO of Nirvana Labs. "As a builder in the web3 industry, I witnessed firsthand the substantial costs and technical challenges decentralized applications face with traditional web2 infrastructure and the currently managed service solutions out in the market today. Nirvana Cloud is our answer to these challenges, providing unparalleled performance and cost savings, all while maintaining robust uptime."
Nirvana Cloud 
Nirvana Cloud disrupts the status quo by introducing an ultra-lightweight hypervisor and software-defined networking layer, turning bare-metal server racks into scalable cloud solutions. This allows developers to deploy complex web3 workloads with the performance of bare-metal and the scalability of cloud. There are multiple safeguards in place that also minimize the risks of outages to set new industry standards for reliability along with performance. 
The team at Nirvana Labs has been utilizing Nirvana Cloud to run high performant RPC nodes for countless customers over the past year including the likes of Chainlink, GoldSky and several other leading entities in the web3 domain. Now Nirvana Cloud is available to the public to run any workloads on Nirvana Cloud's virtual machine services, in addition to taking advantage of Nirvana Lab's managed RPC services.
Backed by leading investors such as Varys Capital, Lattice Fund, and a strong angel syndicate led by Joe Bruzzesi, Nirvana Cloud is poised for exponential growth. 
Nirvana Labs extends a warm invitation to developers, entrepreneurs, and organizations in the web3 space to immediately start using Nirvana Cloud. For more information about Nirvana Cloud and its services, visit our cloud landing page here.
About Nirvana Labs

Nirvana Labs is a pioneering technology company that specializes in advanced cloud services for the web3 sector. With a mission is to bridge the gap between the decentralized goals of web3 and the practicalities of cloud infrastructure. Nirvana Labs developed Nirvana Cloud to provide a foundation for an open, secure, and distributed internet.